Profile
Located in Nova Petropolis - Rio Grande do Sul, SEIBT operates in the supply of machinery and equipment for plastic recycling whether in pre or post consumption processes, serving all of Brazil and Latin America.
Since 1974 it has been producing complete recycling systems in addition to medium and low speed mills for the reuse of plastic waste, shavings and leftovers in general, designed with the highest technology to offer maximum efficiency and productivity, according to the specific need of each customer.
There are more than 50 models of machines, including mills, agglomerators, shredders, extruders, perforators, exhaust fans, silos, complete systems for recycling plastics and wastewater treatment stations.
"SEIBT has been building a success story for 45 years, recycling ideas for a smarter future."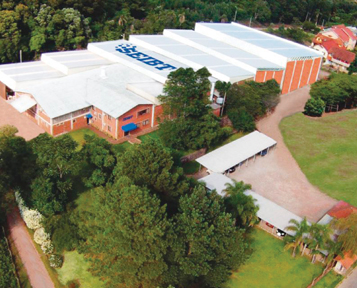 Historic
1966

Foundation Stone of Colégio Frederico Michaelsen, where the Menopel School Company would be installed in the future.

1970

Rubem Antônio Seibt starts a campaign to found a school-company in Nova Petrópolis, using machine tools donated by Germany to the Frederico Michaelsen school.

Meeting-Dinner to start the School-Company with the participation of the future 37 associates.

1974

Inauguration of Menopel, a School-Company created with the objective of providing metallurgical services and training professionals for this industry.

1977

Menopel faces serious financial problems as a result of economic policy in Brazil. At this point Mr. Rubem Seibt gathers all his savings to acquire the company from the other associates and continue the venture, which started to be called as Metalúrgica Seibt Ltda.

1980

Visualizing a prosperous future for the plastic industry in Brazil, Mr. Rubem Seibt starts to manufacture 04 models of granulating mills this year.

1984

Beginning of construction of the company's new headquarters at the current address.

1985

New headquarters completed.

It was produced the first complete recycling line for post-consumer polyethylene and polypropylene.

1987

The company changes its name to Seibt Máquinas para Plásticos Ltda.

Attendance in the first edition of the International Plastic Industry Fair - Brasilplast - Anhembi / SP.

1994

Commemoration of the 20th anniversary of Seibt Maquinas.

1997

Seibt Máquinas starts to expand its industrial park.

1999

Commemoration of the 25th anniversary of Seibt Maquinas.

2004

Seibt's 30th birthday party.

Achievement of the RS (Rio Grande do Sul State) Quality Award, Total Quality Management Program.

2006

Human Resources Highlight Award.

Launch of the 1200A mill the largest ever built with a 200hp engine and weighing almost 8 tons.

Launch of TF mill line, for milling application of grid line resulting from the thermoforming process.

2007

Human Resources Highlight Award for the second consecutive year.

Produced the first PET recycling system, with super hot wash, achieving excellence in the cleaning quality of the recycled material, resulting in food grade flakes.

2008

Achievement of the Pietro Zanella Plastic Merit Trophy, which honors individuals and/or legal entities that have stood out in actions related to the development of the plastic industry in the Northeast region of Rio Grande do Sul.

Launched at the Interplast Fair - Joinville / SC - Shredders with insert rotor (TPS 800), for application in the fragmentation of plastic lees, pieces with great volume and resistance.

2009

Commemoration of the 35th anniversary of Seibt Maquinas.

2010

The production verticalization process started, with important investments in extensions and machines.

2011

Seibt is honored with the Highlight Industry Award, granted by the Commercial and Industrial Association of Nova Petropolis.

2013

Attendance for the first time in the most prestigious international plastic fair - K - Düsseldorf Fair, Germany.

2014

Current view of Seibt facilities.

Commemoration of the 40th anniversary of Seibt Maquinas.

Seibt Máquinas has a diversity of more than 100 models of machines applied to the plastic sector.